48-week randomized start (Study 301)
A randomized-start, phase 3 clinical study of 12 patients  (4 males, 8 females) aged 8 to 25 (median age: 14 years) to assess the efficacy and safety of recombinant human β-glucuronidase (rhGUS) enzyme replacement therapy (ERT) in patients with mucopolysaccharidosis VII (MPS VII).1,2
Randomized-start design provided placebo-controlled data assessment to accommodate the extreme rarity of

 

MPS VII and the small number of

very diverse patients2
The extremely small population of patients with MPS VII globally necessitated the enrollment of all patients able to participate in the 48-week study, resulting in a highly heterogeneous group.1
In some patients, clinical end points were not assessable due to the extent of disease, age, or level of cognition.1
48-week randomized start (Study 301)
A randomized-start, phase 3 clinical study of 12 patients  (4 males, 8 females) aged 8 to 25 (median age: 14 years) to assess the efficacy and safety of recombinant human β-glucuronidase (rhGUS) enzyme replacement therapy (ERT) in patients with mucopolysaccharidosis VII (MPS VII).1,2
Randomized-start design provided placebo-controlled data assessment to accommodate the extreme rarity of

 

MPS VII and the small number of

very diverse patients2
The extremely small population of patients with MPS VII globally necessitated the enrollment of all patients able to participate in the 48-week study, resulting in a highly heterogeneous group.1
In some patients, clinical end points were not assessable due to the extent of disease, age, or level of cognition.1
---
Patients were blindly randomized 1:1:1:1 to one of 4 treatment sequence groups1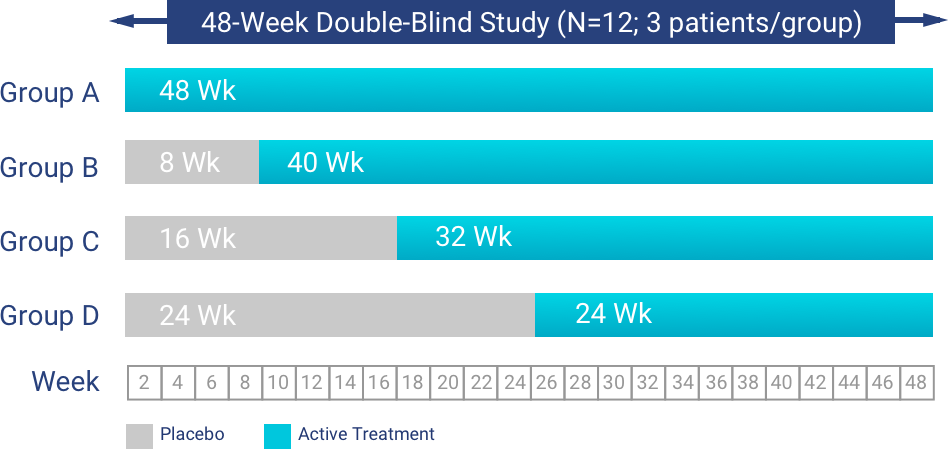 Patients who were enrolled in the 48-week study were eligible to roll over to an open-label extension study in which patients received additional doses of MEPSEVII 4 mg/kg intravenously every other week for up to 124 weeks.1
124-week open-label extension study
An open-label extension trial in which patients received additional doses of MEPSEVII at 4 mg/kg intravenously every other week for up to 124 weeks.1 
Ex-US investigations
A single-arm, open-label, dose-exploration study outside the United States included 3 patients with MPS VII aged 5 to 25 years.1
Expanded access
Expanded access to MEPSEVII treatment was provided to a pediatric patient with MPS VII who required continuous ventilatory support at the start of treatment and was subsequently able to tolerate 9 hours daily off ventilator support after 164 weeks of MEPSEVII treatment.1
---
Patients were blindly randomized 1:1:1:1 to one of 4 treatment sequence groups1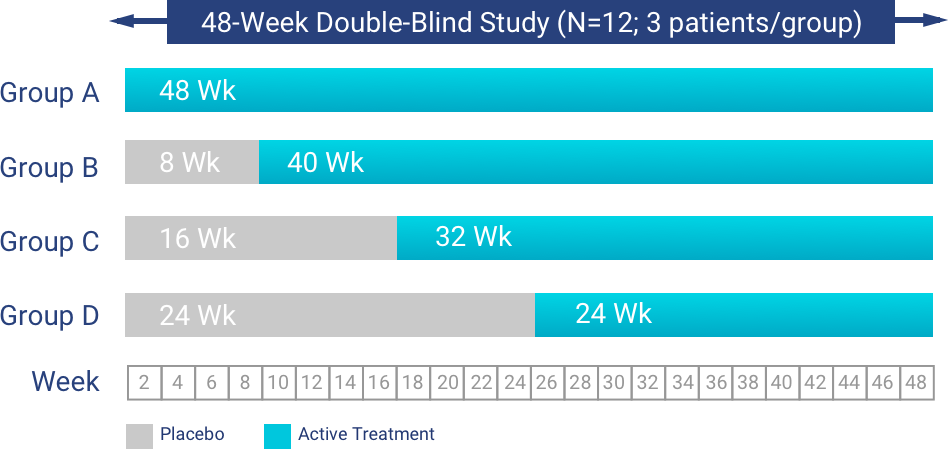 Patients who were enrolled in the 48-week study were eligible to roll over to an open-label extension study in which patients received additional doses of MEPSEVII 4 mg/kg intravenously every other week for up to 124 weeks.1
124-week open-label extension study
An open-label extension trial in which patients received additional doses of MEPSEVII at 4 mg/kg intravenously every other week for up to 124 weeks.1
Ex-US investigations
A single-arm, open-label, dose-exploration study outside the United States included 3 patients with MPS VII aged 5 to 25 years.1
Expanded access
Expanded access to MEPSEVII treatment was provided to a pediatric patient with MPS VII who required continuous ventilatory support at the start of treatment and was subsequently able to tolerate 9 hours daily off ventilator support after 164 weeks of MEPSEVII treatment.1
INDICATION
MEPSEVII is a recombinant human lysosomal beta glucuronidase indicated in pediatric and adult patients for the treatment of Mucopolysaccharidosis VII (MPS VII, Sly syndrome).
Limitations of Use
The effect of MEPSEVII on the central nervous system manifestations of MPS VII has not been determined.
BOXED WARNING AND ADDITIONAL IMPORTANT SAFETY INFORMATION
WARNING: ANAPHYLAXIS
Anaphylaxis has occurred with MEPSEVII administration, as early as the first dose, therefore appropriate medical support should be readily available when MEPSEVII is administered.
Closely observe patients during and for 60 minutes after MEPSEVII infusion.
Immediately discontinue the MEPSEVII infusion if the patient experiences anaphylaxis.
Anaphylaxis to MEPSEVII was reported in 2 of 20 patients in the clinical program. The two patients with anaphylaxis to MEPSEVII during the clinical trials had one occurrence each and tolerated subsequent infusions of MEPSEVII, without recurrence.

Consider the risks and benefits of re-administering MEPSEVII following anaphylaxis

Manifestations included respiratory distress, cyanosis, decreased oxygen saturation, and hypotension.

Prior to discharge, inform patients of the signs and symptoms of anaphylaxis and instruct them to seek immediate medical care if symptoms occur.
Adverse Reactions
In a clinical trial, the most common adverse reactions occurring with MEPSEVII treatment included infusion site extravasation, diarrhea, rash, anaphylaxis, infusion site swelling, peripheral swelling, and pruritus.

One patient experienced a febrile convulsion during MEPSEVII treatment. The patient subsequently was re-challenged without recurrence and continued on treatment.
Use in Specific Populations
There are no available data on MEPSEVII use in pregnant women to determine a drug-associated risk of adverse developmental outcomes.

There are no data on the presence of MEPSEVII in either human or animal milk, the effects on the breastfed infant, or the effects on milk production.
You may report side effects to the FDA at (800) FDA-1088 or www.fda.gov/medwatch. You may also report side effects to Ultragenyx at 1-888-756-8657.
Please see full Prescribing Information, including the BOXED WARNING, for a complete discussion of the risks associated with MEPSEVII.
References: 1. MEPSEVII [package insert]. Novato, CA: Ultragenyx Pharmaceutical Inc; 2017. 2. Data on file. Clinical Study Report UX003-CL301. Ultragenyx Pharmaceutical Inc; January 9, 2017.